Discover a
Healthy Way BackSM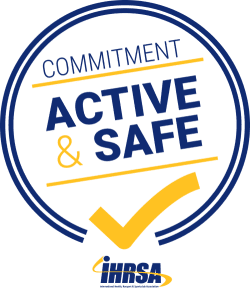 "I came back to Merritt (Downtown location) mid October. I had been a daily gym-goer before COVID, but even after Merritt reopened, I was nervous to come back, since I have close family members who are high-risk (asthma, diabetes, over 60, etc). I appreciated the frequent communication from Merritt during the closure and during reopening. As I was considering coming back, I had all the information I needed from Merritt about the safety protocols in place and what to expect when I came in. I saw the videos online showing the equipment spaced out all over the basketball court, and that's when I decided I felt comfortable enough to come back in.

I was truly impressed by what I saw when I came back. The change that meant the most to me personally was the distancing of equipment to allow you to be 6ft or more from others while working out. Everyone wears a mask when moving around, the directional arrows around the gym help keep people spaced apart, all gym members are doing their part to clean equipment after they use it, and cleaning staff are continuously sanitizing equipment.

I feel very lucky to be a member of a gym that's taking this pandemic so seriously--not many gyms are. I am so happy to be back in the gym!"

Dana, Merritt Clubs Downtown
"I think the club has done an outstanding job making the club as user friendly as possible while keeping it super clean. To be honest, I was not sure I would return. I can not think of anything more you can do for members that do not want to live their life on hold."

Rita, Merritt Clubs Eldersburg
"The gym has never been cleaner. I was hesitant to return to the gym, but felt very comfortable once I was there and it was really due to how clean everything was. Communication has been great throughout, they nailed this."

Matthew, Merritt Clubs Fort Avenue
"Trust me when I say Merritt has really impressed me with the measures they have taken to protects its members. I really think that working out at Merritt Clubs will be safer than going to the grocery store."

Michelle, Merritt Clubs Fort Avenue
"At first I was scared to come back to the Merritt Downtown location due to the pandemic. However merrit has shown me over these last few months how dedicated they are to staying Covid free. Things like everyone wearing masks and everyone wiping equipment down after use mentally eases my mind and I'm grateful that Merritt has become a place of shelter in these chaotic times."

Earl, Merritt Clubs Downtown
"I think the gym is taking everything very seriously, as I assume the other locations are as well. I routinely see the staff wiping down the equipment, have posted more than adequate signage, and remain personable despite having to continuously wear a mask. I appreciate the work and effort they have to put into maintaining a safe, clean, and healthy environment for the patrons."

Stephen, Merritt Clubs Cranbrook
"I just took a cycle class where I was at least 15 feet away from my classmates and the instructor was behind [a] plexiglass. The airflow, like an airliner, takes the air away [from] us and filters it. "

Gary, Merritt Clubs Towson
"Merritt is a positive environment for anyone, at any athletic level, to feel comfortable to work out in. Love the app for registering for classes and on demand access. I appreciate the emails to keep us all up to date with how Merritt is handling Covid Policies, cancelations because of weather, class schedules etc... Y'all doing a great job!"

Melanie, Merritt Clubs White Marsh
"I feel like the staff is so on board with not only following guidelines but holding each other accountable. I see staff being proud to wear masks and clean the entire zone before a new group comes in. I see them uphold the rules and regulations for the kids as well as the parents...I think the thing that impresses me the most is when I see EVERY SINGLE TOY being disinfected after use. Even if it was just touched once. I noticed the other day when i picked up the baby, the staff went directly over to the exersaucer he was in and wiped / sprayed it down. It's a good feeling to know my infant was put into that with it cleaned that very same way. The staff help ensure all the kids sanitize on their way out and as a mom of two that is so helpful! Sometimes it slips my mind as I'm walking out but the staff is there to help make sure we all sanitize during drop off and pick up. "

Sara, Merritt Clubs Eldersburg
"I want to thank you for all you and your staff have done to make the Merritt Towson Club safe and accessible. I truly do feel safer going to your club than going to the grocery store, Home Depot, outdoor dining establishment, or any other place outside of my home. You and your staff have put in very effective safety measures, and we all feel confident working out on the equipment as well as taking group classes."

Susan, Merritt Clubs Towson
"The gym may be the last thing on your mind during COVID, but I have begun checking it out again, and this Merritt location is absolutely making every effort to keep members safe. The spacious workout areas are distanced and with plenty of sanitizer. The staff is relentlessly friendly, which can't always be easy for them right now. I am cautious and conservative when it comes to my choices during the pandemic, and I can honestly say I feel safe at this location - and getting physical again has helped my mental outlook quite a lot."

Mark, Merritt Clubs Downtown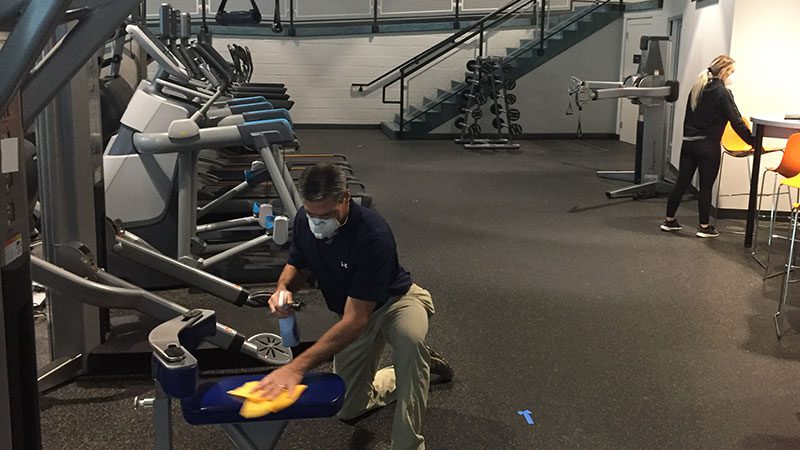 Lobbies:
Sneeze guards are placed on all welcome desks and kid's club counters as an extra precaution, and signage will be posted at entry ways stating that no members or staff are to enter the club if they show any signs or symptoms of COVID-19. For contactless check-in, members will be required to check in using the Merritt Clubs app, and cash will no longer be accepted.
---
"They made a lot of changes to accommodate for social distancing. Very clean and well managed. Worth the money."
– Dave, Merritt Clubs Canton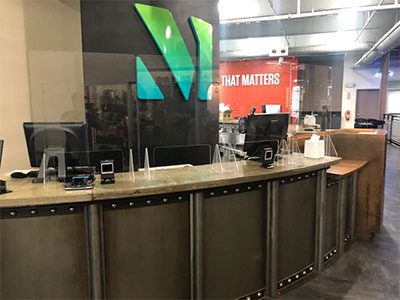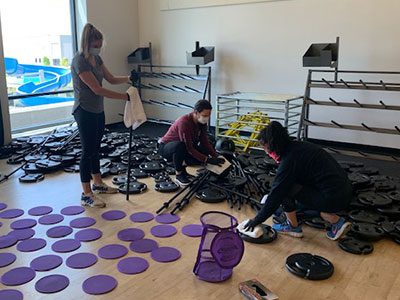 Group fitness studios:
Class times will be adjusted to ensure there is at least 15 minutes between each class so that equipment can be properly sanitized. Instructors are tasked with reminding members to wipe down equipment before and after each class. Learn how to register for classes here. 
---
"When the wide variety of outdoor classes started, they were fun and safe, and it was so nice to see people again!"
– Rachel, Merritt Clubs Fort Avenue
Fitness floor:
We've rearranged equipment to observe physical distancing and proper spacing. While the majority of equipment has remained in the club, some have been removed to make space. Our team will be using hospital-grade disinfectant on machines and fogging free weights with the electrostatic guns throughout the day.
---
"You took the requirements for social distancing to heart, and the club feels safe. Simply, the club is just a good place to workout. Plain and simple."
– Jeffery, Merritt Clubs Eldersburg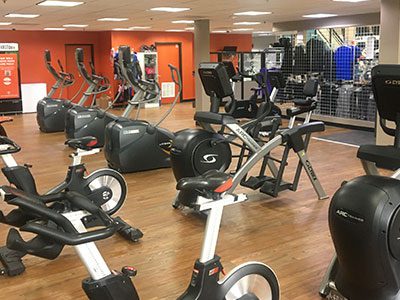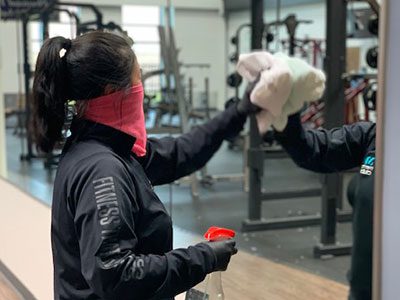 High-touch areas:
Surfaces will be thoroughly cleaned and treated by our teams with hospital-grade disinfectants throughout the day, and third party cleaning and fogging companies will be utilized if necessary. Floor stickies will be placed in high-traffic areas and group fitness studios to remind members to remain at least 6 feet apart. 
---
"I saw cleaning/ sanitizing being done, everyone has to leave at a certain time, hoses, buckets, brushes come out and additional deep cleaning is done."
– Mary, Merritt Clubs White Marsh
Kids Club:
Our team has put together safety protocols to allow for the reopening of the Kids Club. If you would like to bring your child, you must use the Merritt Clubs app to make a reservation. Hours have been modified and capacity has been limited to ensure everyone's safety. A 1.5 hour max time limit will be strictly enforced. Learn how to reserve your spot here.
State officials require children ages five and over to wear a mask while in the Kids' Club when physical distancing is not possible. If your child does not have a mask, they will be unable to enter.
---
"This facility is staffed with amazing people. It is always clean, and is a welcoming environment. I love the child care staff. My son is EXCITED to go!"
– Krista, Merritt Clubs Canton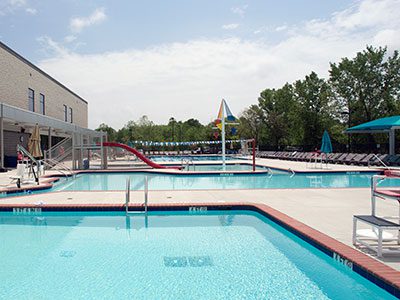 Outdoor Pools:
Members will be required to make a reservation to access the pool facility. We will adhere to state guidelines for how many patrons can be in the pool at once, as well as social distancing guidelines for maintaining at least 6 feet of physical distance while in the pool and on the pool deck. Please review and follow the pool guidelines listed here and learn how to reserve a spot here. 
---
"I swim laps daily and read at the pool in the late afternoons and I have been so impressed with how the registration system has been handled."
– Sarah, Merritt Clubs Fort Avenue
Planning for a safe visit